The platform for better converting websites
Optimize your existing websites in minutes
Try it 30 days free of charge
This is how simple Varify.io® works
With Varify.io® you create from existing websites, in a few minutes A/B tests or dynamic websites - independent of your CRM or store system.
A/B Testing - Data-driven optimizations
Can be evaluated directly in Google Analytics 4
Unlimited traffic & variants
Existing web pages are adapted directly
DSGVO Compliant - We do not store data
Join over 500 online marketers and increase your sales through
A/B tests

and

dynamic websites

.
Increase the conversion rate of your
Websites
What makes Varify.io® different from landing page builders and A/B testing tools?
Same price:

Regardless of traffic and number of optimizations.

Landing page builders usually charge based on the number of traffic and/or the number of landing pages created.

Campaign Booster:

Conversion optimized features directly applicable

Use templates like USP Bar, Notifcations, etc. to directly apply proven concepts.

Without additional implementation:

Consent layer and tracking functions do not need to be set up additionally.

With Varify.io®, tracking and consent layers work as usual.

Get started right away:

Can be used directly without setup effort and special knowledge.

Most landing page builders require you to set up subdomains. With Varify.io®, you just integrate a JS code snippet on your page and you're ready to go.

CI Conformity:

The website design is automatically maintained.

With landing page builders it is either not possible at all or only with a lot of effort to design landing pages according to your own CI specifications.

Compatibility:

Technical modules like newsletter registration, shopping cart, checkout etc. can be used as usual without special integration.

Varify.io® landing page variants are based on best-in-class websites. Unlike landing page builders, all website functions work as usual, without you having to worry about further integrations.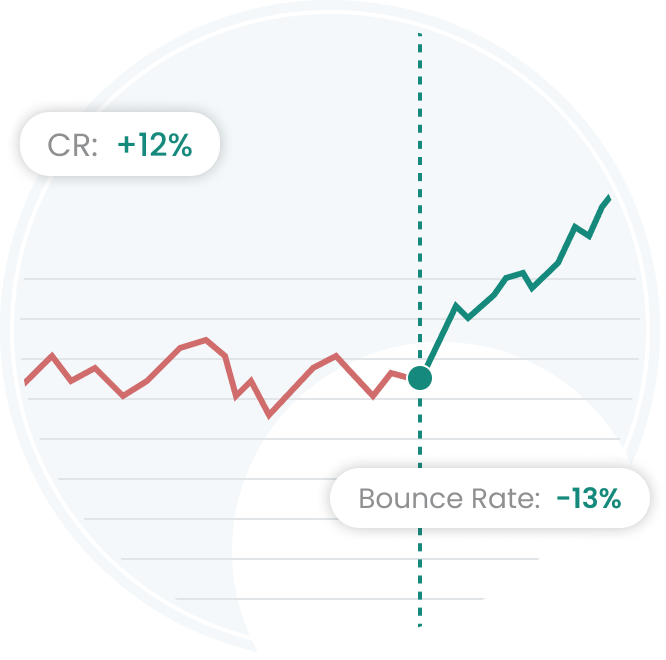 Talk to our experts about how you can increase your website's conversion rate using the Varify.io® platform.
Frequently asked questions
How do I integrate Varify.io® on my website?
The Varify.io® snippet should be included at the beginning of the head section of your website. Alternatively, you can simply add the snippet via a tag manager.
Can I try Varify.io® without having the snippet integrated on my website?
How do I set up a new A/B test with Varify.io®?
Create a new variant and save it under a name of your choice.
Now you can define your A/B test setup directly in the Varify.io® dashboard for the created variant and then start it directly. The A/B test setup includes the definition of the targeting and the traffic distribution.