In this blogpost we cover a neglected topic: dynamic landing pages. You'll find out in this post how to use them to make your Increase conversion rate effectively and the Take user experience to the next level can.
In general, landing pages are often the first impression people get of a company's product or service on the Internet. So it's all the more annoying when a visitor has clicked on your ad and this magical moment on the landing page ends right away. So what can you do to make sure that doesn't happen? Is there a way to actively influence not only the impact of ads, but also the impact of landing pages, so that performance marketing campaigns are profitable? Anticipated... yes, with dynamic landing pages. Before we go into detail about dynamic landing pages, let's look at the basic problem when static landing pages are used instead of dynamic ones.
What is the problem with static landing pages?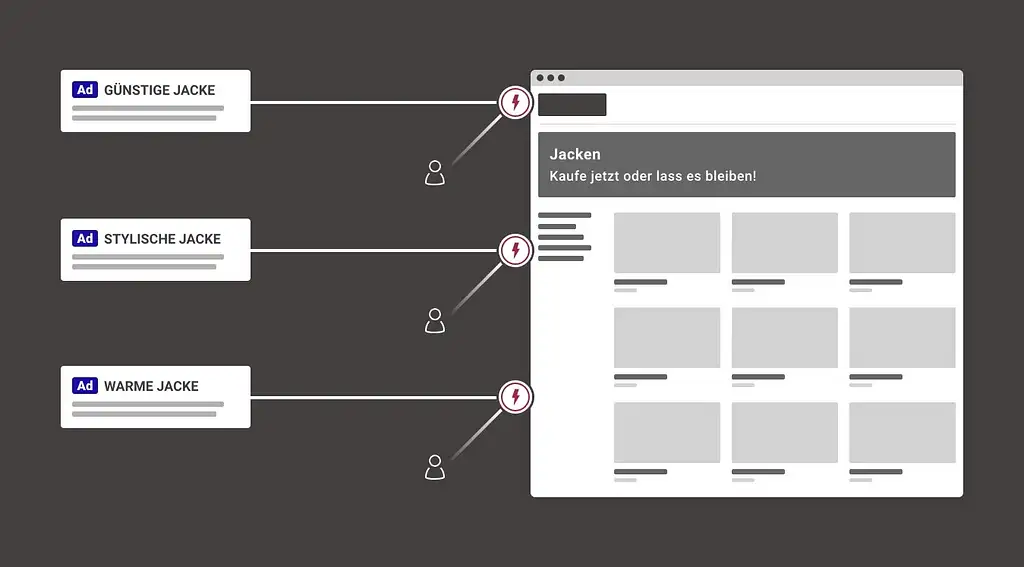 The problem with static landing pages: they display the same content to every visitor despite different expectations.
Why are there rarely specific landing pages for different ads?
Why often only one landing page is used for different ads can have very different reasons. Most Store or content management systems are simply not designed to provide dedicated landing pages for advertising campaigns. The effort required for the creation and content maintenance of landing pages is immense. In addition, there are often only limited resources available. Rarely do you have developer resources available in the marketing department. These resources often have to be planned far in advance. This creates a time lag and agile working is hardly possible. For this reason, page builders are often used in many companies, as marketers can use them to create landing pages without developers.
What are the disadvantages of page builders?
The most popular page builder providers are Unbounce, Leadpages, Instapages and Elementor for WordPress sites. Page builders make sense when your own system is too static to sufficiently cater to the needs of advertisers. With patience and a little bit of effort, you can create fancy landing pages, which, however, can be are static and have to be rebuilt per application.
Page builders have many other disadvantages. They are very time-consuming to set up, since functions such as the shopping cart, interfaces, widgets and the entire page structure have to be recreated first. In addition, the corporate identity of the company cannot be implemented 100 percent for technical and economic reasons. The tracking concept of the company's own website must also first be laboriously set up on the non-system landing page and linked to the company's own website. And last but not least, you have to ask yourself what happens to the landing pages you have painstakingly created if you decide to cancel the page builder.
We hold: static web pages created with Page Builder have big disadvantages. 
After all, a far more efficient solution would be not to have to create landing pages from scratch. And it would be even better if we could simply adapt new versions of existing pages - preferably with just a few clicks - to the advertising media. All this is possible with dynamic landing pages.
Therefore, the next logical step is the use of dynamic landing pages.
What is a dynamic landing page?
Users often arrive at the same landing page through a wide variety of channels and ads. All these expectations and needs created by various ads and ad formats are very difficult, if not impossible, to cover with a landing page.
Unfortunately it is the sad reality of a performance marketing manager, that mostly only a generic page or possibly only a filtered product list is available as landing page for the ad. The reasons for the lack of alternative landing pages are simple. The effort to create and maintain them is immense and you have no one who can actively take care of it. 
This is where dynamic landing pages come into play. Depending on the channel (e.g. Google Ads, Facebook or email) or targeting resp. Segmentation (e.g. by "B2B" or "B2C") you create dedicated landing pages that match the user expectations of the respective channel or campaign. For example, a person who came to your site via Google Ads and doesn't know it yet may need to be addressed differently than a newsletter subscriber who already knows your service or product. 
Dynamic landing pages are existing landing pages optimized for target groups and customer approaches. These customized landing pages can, for example, contain different headlines, text passages, images, and much more. The deviation corresponds exactly to what you think is right, so that the target group you are advertising to feels properly picked up.

Why use dynamic landing pages?
The Advantage of a dynamic landing page is that it is based on the needs of searchers and users. The dynamic landing page can, for example, respond to the searcher's purchase intentions or motivations. Thereby it has an effect Particularly relevant on the visitor. This in turn has a positive effect on the conversion rate. Thus, there can be another landing page variant of each landing page, which is tailored to the needs of the user.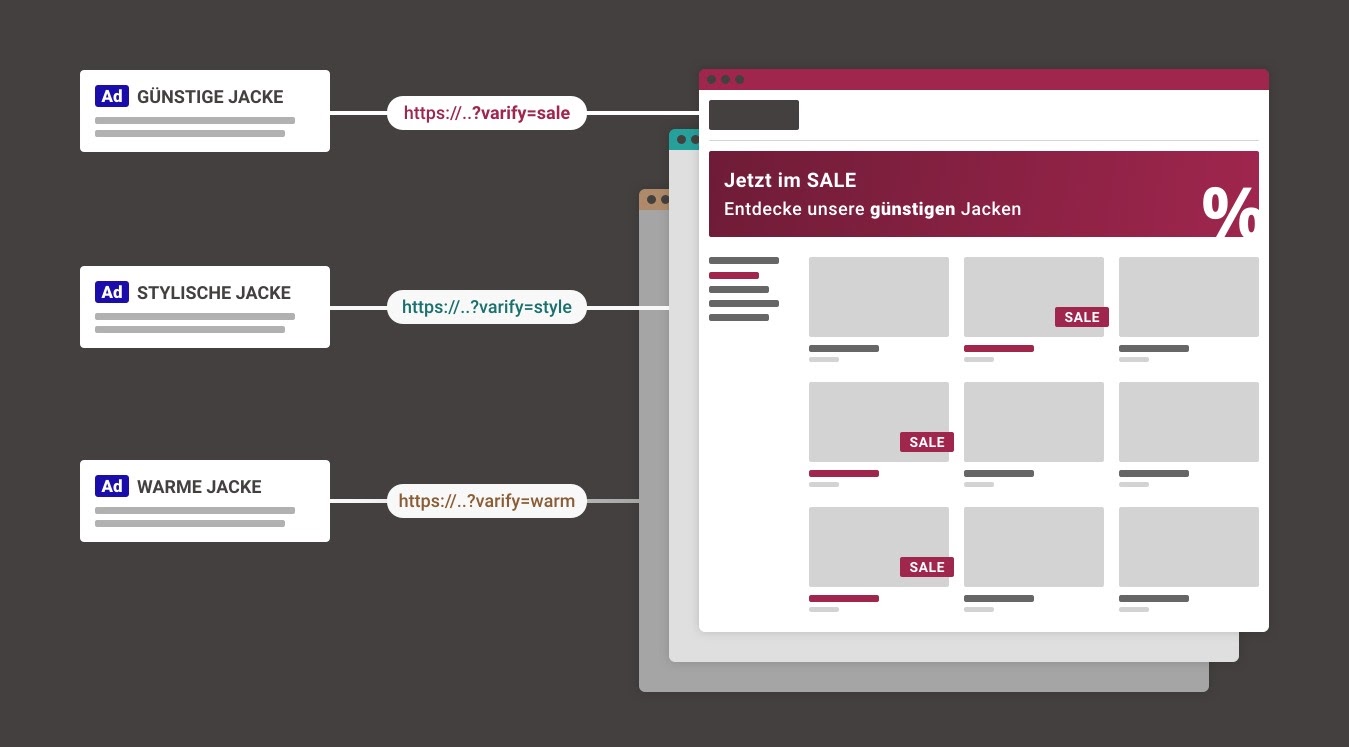 The advantage of dynamic landing pages: they can load different content depending on the visitor's intention and thus respond to their needs.
How does a dynamic landing page work?
A dynamic landing page is a variant of an existing website or landing page. The existing website is called the Core Page and the variants are customized offshoots of it. In principle, any of your pages can serve as a Core Page, such as your home page, a filtered category page or product list. From a technical point of view, the core page is loaded and dynamized unnoticed by the page visitor during the loading process. This means that the optimizations you previously made for this dedicated landing page appear on the page in real time.

You can then use the dynamic landing pages - or landing page variants - as target pages for selected ads to communicate value propositions, product benefits, and also emotions in a targeted manner on the landing pages. This makes the Visitors ideally picked up and the Conversion rate increases.
Where are dynamic landing pages used?
The use of dynamic landing pages is possible for any type of website. So the websites can be used for example in a content management system (like WordPress or Joomla) or also in any store system (like Shopify or Shopware). Ultimately, dynamic landing pages are always used where people with a certain intention or expectation should be picked up accordingly.
When to use dynamic landing pages?
Dynamic landing pages should be used whenever you already know something about the user in some form and want to pick them up in a relevant way when they visit your site. This is the case, for example, with advertisements, when visitors come to your landing page via certain advertising messages. In this case, you know about the visitor that he is at least interested in a corresponding topic and reacts to a certain address.
SEO pages cannot address all needs, as it is unclear with which need the individual comes to the page. With advertisements you have the Advantage that through a targeted advertising message the intention of the searcher is known. Therefore, it makes sense to also use relevant landing pages with ads that address user needs.  
Dynamic landing pages should therefore be used when, on the one hand, the visitor is to be picked up properly and, on the other hand, the creation and maintenance of an additional, completely new landing page would be too costly.
Who should use dynamic landing pages?
Dynamic landing pages are particularly suitable for performance marketing. The disciplines of performance marketing include, in particular, Google Ads, Facebook marketing, e-mail marketing and the forms of retargeting and remarketing. Websites for SEO or direct traffic, on the other hand, are not suitable.
Google Ads
The use of dynamic landing pages is particularly suitable for Google Ads. In this way, you place ads exclusively for people who are also looking for your product or service. With dynamic landing pages, you can take up the ad content and present it to the searcher in an appropriate way on the landing page, both textually and visually. Likewise, with the "Dynamic Keyword Insertion for Landing Pages" function, it is possible to have the user's search terms appear not only automatically in the ad, but also automatically at a position defined by you on your landing page. In this way, you can ensure with very simple means that visitors feel individually and especially picked up on each of your landing pages. Learn more about "Dynamic Keyword Insertion For Landing Pages" at: https://varify.io/blog-dynamische-keyword-insertion/
Facebook Marketing
In my opinion, Facebook marketing becomes really exciting as soon as you use the information from your targeting and apply it to your landing page. 
For Facebook Ads, special targeting options are usually chosen to specify the target group. This can be, for example, the industry, the positioning in a company or certain interests. Targeting lets you know exactly who you are dealing with. This means that you can also create suitable landing page variants for appropriately targeted groups in order to ideally pick them up. For example, you can run ads for people in a specific industry and target them with a more appropriate version of your landing page. Or you can segment by people who have an interest in your service but are also followers of deal and discount pages. You could then pick up these people with a landing page that highlights the price savings. There are no limits to your creativity here.
A simple example of how you can target your visitors more effectively by adding a regional aspect to your ads: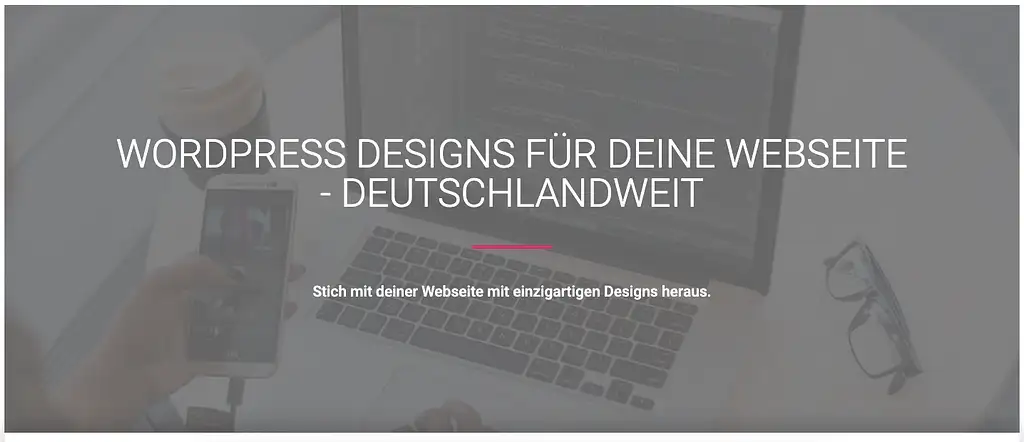 A generic landing page that you don't use to address the regional aspect of your service.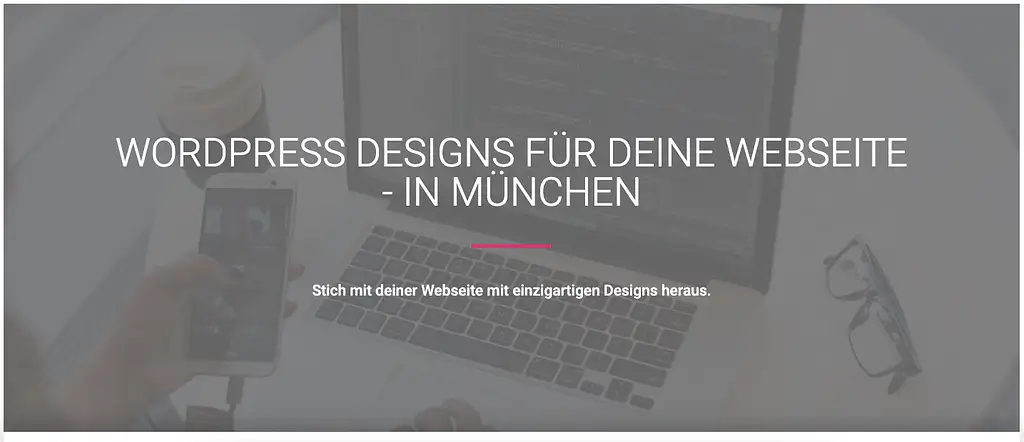 A dedicated, dynamic landing page variant with which you can target visitors who come from Munich and the surrounding area. This way, you can use the regional aspect particularly effectively.
Email marketing
The use of dynamic landing pages is also ideal for email marketing. Here, too, the target group is already segmented via the corresponding tool that you use for your email marketing campaigns. Here it would be conceivable that younger newsletter subscribers are sent a different newsletter than older newsletter subscribers. The approach and product presentation for one and the same product can be completely different. For example, the product presentation for younger people is more likely to emphasize the modern and new. For the older target group, the focus could be on sustainability and ease of use. 
Remarketing/Retargeting
Last but not least, I would like to talk about the use case of dynamic landing pages for remarketing/retargeting campaigns. When a person clicks on a remarketing campaign, they are probably interested in the product in some way. After the website failed to convince the first time, it would be advisable to focus on other product features or company services on the second visit than on the first. For example, on the landing page, the focus of the product presentation is on a low price. On the second visit, the focus could be on fast delivery and an extended warranty. 
So you see, there are numerous use cases where the use of dynamic landing pages can be quite worthwhile.
Why are dynamic landing pages better than static landing pages?
Dynamic landing pages are better than static landing pages because they can address the advertising message on an emotional and textual level in different ways. They give the visitor the feeling of being on the right landing page. Static landing pages, on the other hand, try to address all visitors to a page in the same way and do not address their needs or motivations and goals accordingly. 
With the use of dynamic landing pages, in contrast to static landing pages, you have the possibility to flexibly adapt your page and change existing elements.
Possible are for example:
- Rewordings and adjustments of headlines and texts 
- The hiding of distracting elements, such as menu items
- Replacing or adding images
- and much more.
You can also combine all these options to create the ideal landing page for your visitors. There are almost no limits to your creativity and experimentation.
The scope to design your advertising campaigns is extended by the use of dynamic landing pages. This gives you the opportunity to actively optimize bounce and conversion rates. Since dynamic landing pages are always offshoots of your existing website, tracking and integrations are available as usual. If the content on the core page is updated, it is automatically transferred to the variants. Accordingly, it is not necessary to rebuild your own website.
The first platform for creating dynamic landing pages - Varify.io®.
In order for any business to take advantage of dynamic landing pages, Varify.io has been® developed. 
Unlike Page Builder, the procedure is very simple: 
First, a one-time Javascript snippet is integrated into the website template. Then you can optimize the landing page with the help of a visual editor. The highlight here is that you save the variant and then save it under the existing URL (e.g. www.varify.io) and an additional URL parameter (e.g. new-variant). This URL parameter corresponds to the saved variant name. For example, the new variant would be available at: https://varify.io/?varify=neue-variante. 
When creating dynamic landing pages you are involved with Varify.io® limited neither in the number of variants nor in the amount of traffic. So you can focus on the essentials and optimize your campaigns without restrictions.
Dynamic landing pages with Varify.io
®
: your campaign booster for fast conversion uplifts
In Varify.io® it is possible to access an ever-growing library of widgets whose principles have been proven to increase conversion rates. 
With these widgets you can start right away:
Widget 1) Dynamic Keyword Insertion for Landing Pages
If you are already using Dynamic Keyword Insertion for Google Ads, you can pick up the search query not only in the ad, but also on the landing page, increasing its relevance.
You can read more about this topic in our Read blogpost. Or you can see our short youtube video an:
In this short video we show you the principle of dynamic keyword insertion.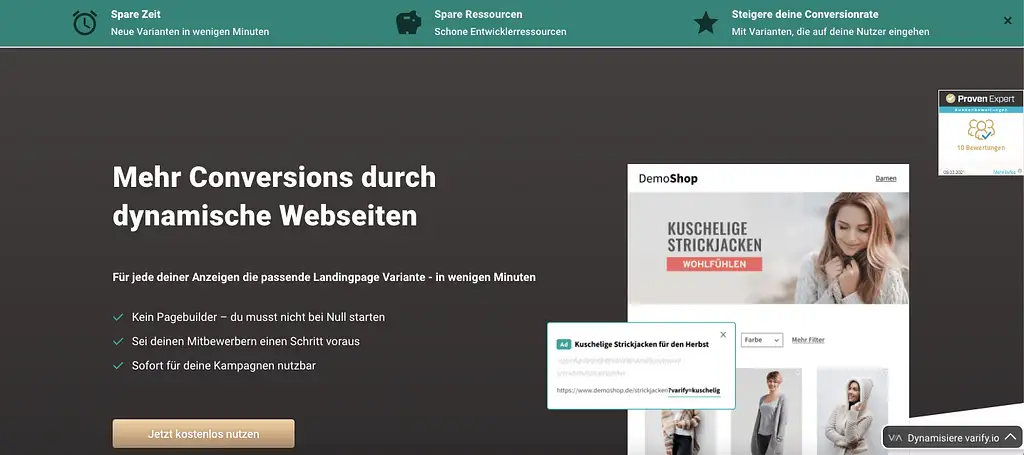 An example of how you can use the campaign booster "USP-Bar" in Varify.io® integrate your advantages on your page by means of a bar.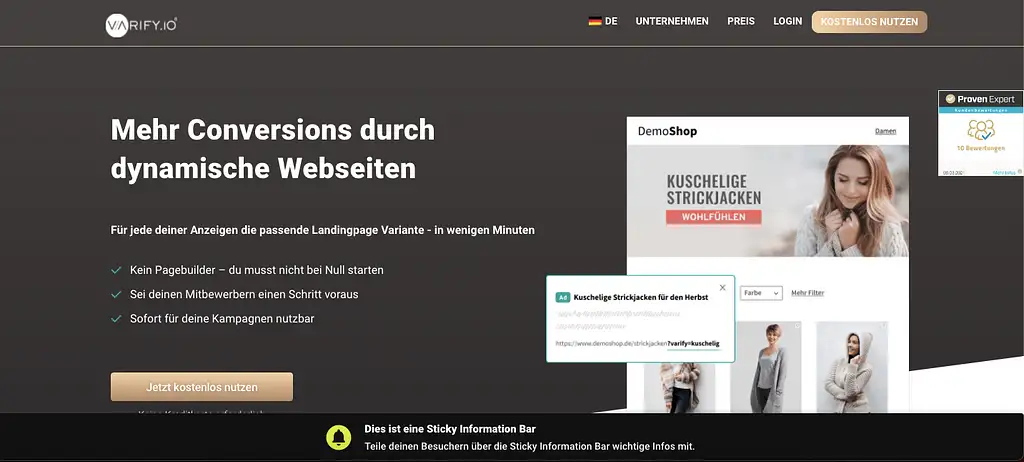 An example of how to use the Sticky Information Bar campaign booster in Varify.io® can communicate an important message to your visitor by means of a bar.
Widget 4) Notifications 

These are animated elements that you can display on your landing pages. In this way, you can draw the attention of your visitors to important messages.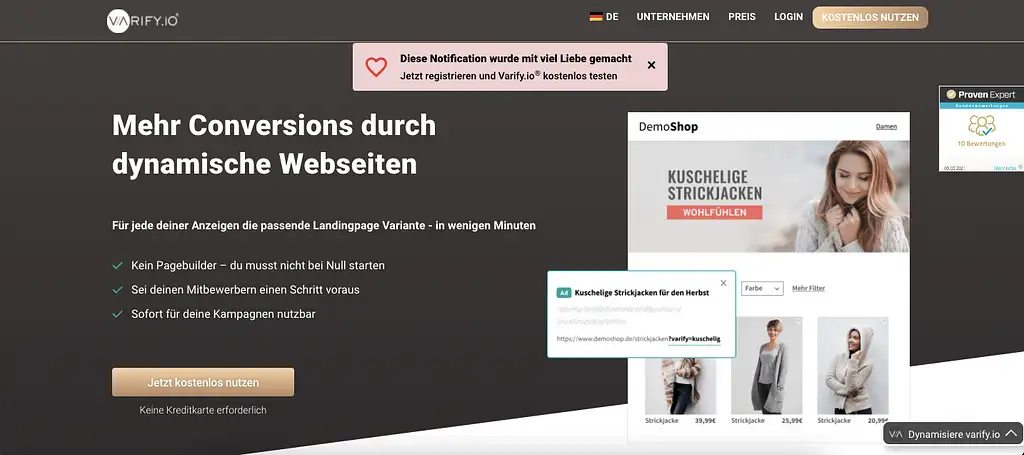 An example of how to use the "Notification" campaign booster in Varify.io® draw your visitors' attention to important messages with an attention-grabbing element.
See for yourself how quick and easy it is to increase conversion rates with dynamic landing pages. Pick up your visitors with the right landing pages and spend less marketing budget. 
Were we able to arouse your interest? Then take the opportunity now, register and create up to ten dynamic landing pages completely free of charge on Varify.io®. You have in the Basic version Access all features and campaign boosters and create your first dynamic landing pages in just a few minutes without any risk or liabilities. 
You want more input from Varify.io®? Then follow us on Facebook or LinkedIn. We look forward to seeing you!
Your Steffen from Varify.io®